Filipino Style Chicken Curry Recipe
Curry Chicken is a common Punjabi cuisine dish popular in South Asia (specifically India), Bangladesh, East Asia, as well as in the UK, Canada and the Caribbean. A typical curry consists of chicken in an onion, tomato, and yogurt-based sauce, flavoured with ginger, garlic, chillies and a variety of spices, often including cumin, cinnamon, cardamom. Curry Chicken is sometimes made with pre-made curry powder. Milk is sometimes added to decrease the spiciness.
Source: Curry Chicken Wiki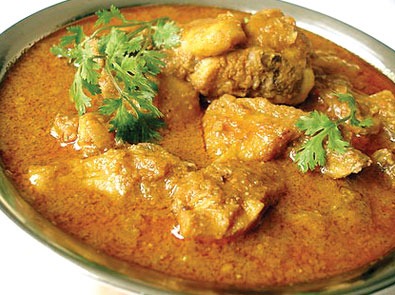 Preparations for Filipino Style Chicken Curry

Ingredients:
1 kilo chicken; cut into desired pieces
2 cups coconut milk
1/2 cup curry powder
1 bell pepper; sliced
1 medium potato; diced
1 carrot; diced
4 cloves garlic; crushed
1 small onion; chopped
Fish sauce
Ground black pepper
Cooking oil

Cooking Instructions:

In a saucepan, sauté garlic, and onion. Drop the chicken and season with salt and pepper. Stir fry the chicken until light brown. Mix the curry powder and let simmer for 5 minutes. Pour coconut milk and drop the potatoes, and carrots. Boil for 10 minutes or until the sauce thickens. Drop the bell pepper and season with fish sauce according to taste. Serve hot together with rice.